2020
Slow Food Presidio
Piano di Mommio, May 2020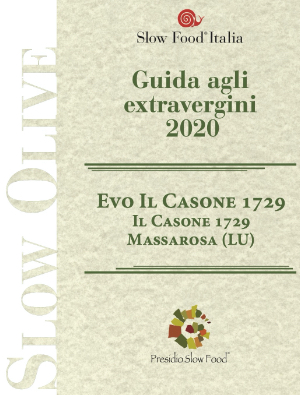 We are very happy to announce that also this year we are part of the Presidio Slow Food. Especially because of the 895.850 registered producers (source: Istat, Censimento dell'agricoltura) in Italy only 118 olive oils have been recognised. Of the 50.017 olive farms in Tuscany there are only 8 Preside and our extra virgin olive oil is one of them. We are proud of this honour!
http://www.fondazioneslowfood.com/it/presidi-slow-food/lextravergine-del-presidio
---
2019
Harvest 2019
Piano di Mommio, October 12th 2019
Time period: October, 1st until October, 11th - 8 harvest days
Olives: 3,509 kg
Olive oil: 351,50litre/322 kg
Yield: 9.15 %
Yield for every tree: 2.6 kg olives; 0.26 litre extra virgin olive oil
"I have written various times, that in principle I have nothing against olive oils in the shelves of different discounter – if you want to use it to maintain your wooden furniture. To give to salad, vegetable soup, fish and meat dishes as well as pasta creations the ultimate culinary kick, these neutral tasting industrial products are completely unsuitable. Better no olive oil then. I personally prefer the native Tuscan olive oils, for their intense aromas, the delicate bitter notes, the spicy nuances and the pleasant clean mouth-feel. My favourite is the olio extra vergine di oliva of the family business Il Casone 1729 in the hillside of the Versilia, whose vintage of 2019 comes particularly characterful and whose grassy, vegetal aroma remains in the mouth for a long time. Even if superlative is not my style – this olive oil is the best, that I have tasted in a long time. An oil of such quality is rarely available."
Jörg Teuscher, food journalist, Berlin
---
2018
Harvest 2018
Piano di Mommio, October 9th 2018

Time period: October, 3rd until October, 9th - 5 harvest days
Olives: 2,430 kg
Olive oil: 252litre/230 kg
Yield: 9.5 %
Yield for every tree: 1.8 kg olives; 0.18 litre extra virgin olive oil
"Intensive emerald green in colour, this oil distinguishes itself because of its pleasant harmonic fragrance. It acts on the pallet elegantly and fruity and scores with its fresh green aromas. Its velvety, delicate taste, the spicy bitter notes and light peppery finish make the organic olive oil of Il Casone 2018 one of the top products of Tuscany."
---
Zaiyu Hasegawa
June 2018
In the recently published ranking of THE WORLD'S 50 BEST RESTAURANTS 2018 the Japanese star chef Zaiyu Hasegawa took the 17th place and advanced to the position of best chef of Japan. We would like to congratulate him by heart and we are proud to be counting Zaiyu as one of the long time friends of our house. With pleasure we remember the time when he presented at Il Casone in front of an international press his vision of a Japanese-Tuscan cuisine.
During a visit to his restaurant DEN in Tokyo we had the chance to experience the high level of a creative perfection of the young chef and we are convinced that his journey to the top has not concluded with this year's success.
---
Slow Food Presidio
Piano di Mommio, 27.02.2018
This year as well we are very proud to have been selected by Slow Food for the Presidio.
---
2017
OLIVE HARVEST

Piano di Mommio, 12.10.2017

We are happy to announce the results of this year's harvest:
Time period: October, 2nd until October, 11th - 8 harvest days
Olives: 5,433 kg
Olive oil: 700/643 litre
Yield: 11.6 %
Yield for every tree: 4 kg olives, 0.52 litre olive oil
"Like every good olive oil also the extra virgin olive oil of estate Il Casone 1729 is recognized by its aroma. The typical cuvée of the traditional Frantoio olives as well as the old varieties Leccino, Maurino and Quercetano has a very pleasant smell and distinguishes itself because of its fresh aroma of green olives, field herbs and cut grass. In the mouth the green oil with intensive fruity notes, unfolds fine bitter notes, in the throat a peppery spiciness that remains like peperoncino. At the same time the excellent quality product from organic agriculture leaves a clean and nice mouthfeel.
The flawless fruits come from the most early possible harvest days of the Versilia and contain a high number of nutritious polyphenols. My conclusion: The olive farmers of Il Casone know what they are doing!"
Jörg Teuscher, Food-Journalist, Berlin
Many thanks to Jörg Teuscher!
No images found.
---
Slow Food Presidio
Piano di Mommio, 02.02.2017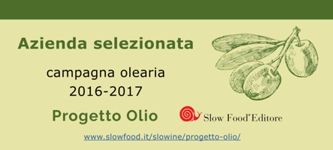 Since Mai 2016 the Slow Food Central awards the Slow-Food-Presidio certification after strict tests and exclusively to Italian producers that cultivate old olive groves in a sustainable way and without the use of synthetic fertilizers and herbicides, in order to obtain traditional cultural landscape and quality oils with their own character. Currently there are only around 60 producers in all of Italy. We are very pleased to receive this honour.
http://www.fondazioneslowfood.com/it/presidi-slow-food/lextravergine-del-presidio
---
2016
OLIVE HARVEST

Piano di Mommio, 12.10.2016

Incredulous astonishment – it is like this that the reaction can be described of those that heard that we started this year's harvest on the 4th of October and finished only nine days later.

With this early harvesting schedule we do not see it as a competition, along the lines of "first come first serve", but only for the quality of our olive oil, its sensory uniqueness and its nutritional value.

We say: Less is more and define with this slogan at the same time our philosophy. By gathering our olives at the earliest possible time, we forego to have a higher yield but gain the flavour typical of the variety and the terroir as well as the health-value of the oil.

In other words: The taste of the mainstream and sensory uniformity are not our style. We want to produce an extra virgin for gourmets. We are naturally also proud that the first tests show how good our olive oil of 2016 is.

A first test
Olio Extra vergine di oliva Il Casone 1729

For me this artisanally produced extra virgin of the year 2016 belongs, among the many oils I have tasted, to the few that fully earn the title "outstanding". It convinces with a fresh, pleasant smell, intensively fruity aromas of freshly cut grass, wild herbs and green almonds and leaves a clean and beautiful mouth-feel.

It is an oil of singular strength with a balanced bitterness and a persistent spiciness. Both these indicators of the polyphenol content and therefore of the nutritional antioxidants appear in such a finely nuanced and harmonic way, that I don't have difficulties in giving this superlative assessment.

Olive oils of this quality are rare, between them and the sad products of industrial companies are huge differences. However: you have to be used to oils like this. Those that follow the taste of the mainstream are advised to look elsewhere.

Jörg Teuscher, Food-Journalist, Berlin
---
Sano & Naturale Boffi

Milan, 13th October 2016

For some time now, it's daily routine of kitchen planers to not care only for the aesthetics of the rooms they design but to also care for what happens in them. Still, the culinary event "Sano & Naturale" (Healthy & Natural) of the renowned Italian company Boffi was everything but common occurrence.

On 13th October 2016, twenty specially selected food manufacturers presented their products to more than 200 invited guests at a kind of mercato culinario. Most of them were organic farmers from all Italian regions.

Star chef Marco Stabile (Ristorante Ora d'Aria) from Florence and his team created little delicacies out of those products. They have shown what depth of taste dishes can reach even if they consist only of a few selected ingredients. Stabile replied to the praise of the invited gourmets with a quotation of Witzigmann: "The star of the kitchen is the product – but only if it is of excellent quality."

Of course, we were proud that the organizers of the Boffi event considered our olio extra vergine worthy to be among the Italian premium products. The judgment of star chef Marco Stabiles: "An excellent olive oil with intensive taste."

By the way: We heard that Boffi plans similar events in its Berlin and Munich branches. We would be delighted to be part of them again!!
---

Terra Madre – Salone del Gusto

Turin, 26th September 2016

Yoshinori Tezuka is one of the most famous sushi masters of Japan. He is fluent in English and Italian and he has a large amount of experience in international Events. So, it comes to no surprise that the Japanese embassy in Rome appointed the 38 year old to be a culinary ambassador for the Terra Madre – Salone del Gusto 2016 in Turin. The special occasion was the 150th anniversary of establishing diplomatic relations between Japan and Italy. Therefore the master from Tokyo made one of his spectacular sushi creations: Tuna with Tuscan olive oil. He chose our Olio extra vergine and called it "great luck fortune" for his sushi creation.

While Yoshinori Tezuka spent two days on Il Casone, we got the idea to plan to organize a Sushi workshop in 2017.

"I would like to bring our thousands of years old culture of sushi production to the Europeans." said Yoshi, "that production starts with the Ikejime method to kill the fish, includes dozens of different cutting techniques and manifests itself in many different local styles. One of which is the Edo style that we, the Tokyo sushi masters, prefer."

We will of course inform our guests and friends about the date of the workshop on time. We hope for great interest.
---

Bachelor
"Holistic approach of high quality olive oil, how to be different" is the title of Bachelor thesis that Alexander Lehmann the manager of Il Casone 1729. He defended it successfully at the University of Gastronomic Sciences (Pollenzo/Piemont) in September 2016.

In particular, Alexander Lehmann describes the cultural and culinary significance of olive oil in past and present. He also gives future prospects for this important Mediterranean product and shows a number of reasons why there is so much going wrong with this highly regulated food item.

Alexander Lehrmann points out that on the one hand olive oil is an important food with an annual trade volume of more than 10 billion Euros and that on the other hand it is an important commodity for the European agricultural policy. All in all, that means that there are many (too many?) involved parties with very different interests on the market. Unfortunately, the EU regulations designed to bring order into the market achieved the opposite…
---

Slow Food Presidio
Piano di Mommio, 20th of May 2016
On the 17th of May 2016 Slow Food Italy finally took a long overdue step: the organisation, which is a counter movement of the uniformed, globalized and tasteless trend of Fast Food, raised the Italian extra virgin olive oil to the rank of a Presidio. This so called network unifies world wide 500 local products: animal breeds, plant varieties, types of honey, raw milk cheese, sausage specialties that are worth to be protected from extinction.
With the inclusion of Italian extra virgin olive oil in the Presidio circle, Slow Food did a long needed step into the right direction, because in this way high quality olive oils of individual small producers, that distinguish themselves because of sustainable production and diverse taste profiles, can separate themselves from the disoriented and refined industrial mass products, that overflow the market with their cheap prices. It is now in the hand of the consumer to inform himself about the quality of the olive oil!
http://www.slowfood.it/olio-extravergine-un-nuovo-presidio
---
2015
Ishikawa Delegation

Piano die Mommio, 20th October 2015

To be honest, all of us from Il Casone had quite a stage fright when a high-ranking Japanese governmental delegation announced a visit on our estate. The delegates from the Ishikawa prefecture were on an official visit to Tuscany. Even the usually collected Conny could hardly hide his excitement.

The visit took place on the 20th of October 2015. The delegation was under the leadership of Masanori Tanimoto the governor of Ishikawa (comparable to the head of government of a German or Austrian federal state). He was accompanied by other political representatives of the prefecture as well as famous food producers and farmer.

During our one-hour exchange of experience, one of their main interests was the organic production of native extra olive oil. We are dedicated to that kind of production in deference to nature. Another important point in our conversation was our philosophy of hospitality. The heart of which is the combination of luxurious ambience with a relaxed familiar atmosphere. Naturally, we took the praise for that with pleasure.

After a walk through the olive grove and quite a lot of interviews for several Japanese media we lunched together. Aele Cabiddu, the chef and owner of the Taverna Le Gradole in Seravezza who is also known to many of our guests created a Tuscan menu. This menu not only met the greatest demands but also led the Japanese, who are not known to be overly emotional, to spontaneous cheering...
---

Zaiyu Hasegawa

Piano di Mommio, 23.05.2015

"Feeding the Planet, Energy for Life" was the motto of the Expo 2015 in Milan from 1st May until 31st October. With its goal to give answers for the challenge of the world food supply the World Exhibition also reached Il Casone.

At the penultimate Saturday in May we welcomed a delegation of Japanese Expo representatives and international journalists at our estate. Among others: Zaiyu Hasegawa two-star chef from Tokyo whose restaurant is one of the best in the Japanese capital. In our open pool kitchen the 36 year old star chef created a modern interpretation of the classical Kaiseki Ryori for about twenty guest of the event. The combination of typical Tuscan products and Far Eastern cooking techniques meant a highly praised link between Europe and Asia..